06/06/09 remoscope workshop in Togoshi Ginza [remo*TOKYO]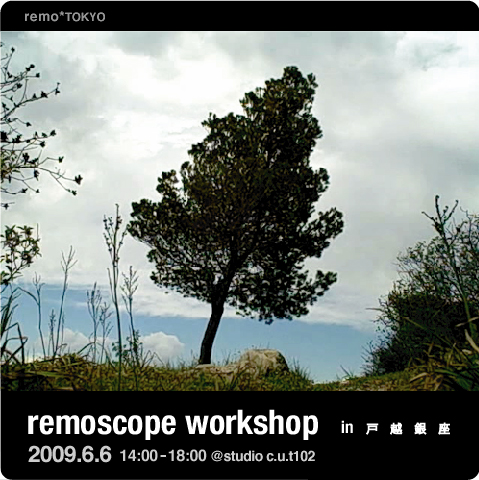 remo*TOKYO has open in June! For the opening project, remo*TOKYO will have the remoscope workshop.
date: Saturday, 6th June, 14.00- 18.00
location: studio c.u.t 102
2-7-4 Hiratsuka Shinagawa-ku Tokyo
access: Tokyu Ikegami Line [Togoshi Ginza]
Fee: 1000yen (incl. video equipments)
10 people
E-mail to tokyo@remo.or.jp (name/ e-mail/ tel)
Organization: remo*TOKYO [NPO remo/ record, expression and medium- ]
*[remoscope workshop]
remoscope is a coinage of video works based on the "Lumiere Rule" remo created. No technique is required. Anybody from beginners to professionals can create video works. In this workshop, participants watch their works together and enjoy calm surprise at dissimilating familiar landscape, which is clipped out by various viewpoints.
*Lumiere Rules
[Fixed camera/ No sound/ No effect/ No edit/ No zoom/ Max. 1 min]
*remoscope (also known as Lumiere video)
http://www.remoscope.net
http://videoblogging.info/lumiere/
REMO DESK May 20, 2009