2010/02/26-28 Phill Niblock [The Movement of People Working] Live Performance + Exhibition
Live Performance + Exhibition by Phill Niblock.
The Movement of People Working, his film series, has been paused since 1991, after a few decades, he did a video-shooting at factories and market in Osaka, November 2009. Don't miss his live performance and Exhibition.
Phill NIBLOCK http://www.phillniblock.com
Phill Niblock is a New York-based minimalist composer and multi-media musician and director of Experimental Intermedia, a foundation born in the flames of 1968's barricade-hopping. He has been a maverick presence on the fringes of the avant garde ever since. In the history books Niblock is the forgotten Minimalist. That's as maybe: no one ever said the history books were infallible anyway. Since 1968 Phill has also put on over 1000 concerts in his loft space, including Ryoji Ikeda, Zbigniew Karkowski, Jim O'Rourke.
Dates: 26- 28 February, 2010
Performance: 19:00- 21:00
Exhibition: 13:00- 20:00 (close at 17:00 on 28th)
Venue: remo, Coop Kitakagaya
5-4-12 Kitakagaya, Suminoe-ku, Osaka, 559-0011
e-mail: info@remo.or.jp/ remo.office@gmail.com
Access: Osaka City Subway, Yotsubashi-Line [KITAKAGAYA] sta. Exit 4 (5 min. walk)
2009/11/23 Phill Niblock Presentation+Performance with Katherine Liberovskaya
Presentation and Sound+Video Live Performance by Phill Niblock.
Katherine Liberovskaya collaborates her video with Phill's sound.
In this November and February 2010, Niblock will shoot the his film series "The Movement of people working" in Osaka, within the programme of Osaka City Contemporary Art Support project. The performance with the new video works will be scheduled in February.
Date: Monday, 23rd November 2009, 17:00-
Venue: Art Yard Studio
4th Floor, A.I.R.1963 Bldg. 1-2-25 Motomachi, Naniwa-ku, Osaka, 556-0016 JAPAN
http://www.artyard.jp/artyardstudio/
Admission: 1000yen(+1d)/Artist Free (+1d)
______
Osaka-City Contemporary Art Creation Support Project.
Media Art in Residence Programme
Host Organization: Osaka-City
Project Management: remo/ Cultural Promotion Department of Osaka-Jo Hall
Cooperation: CAS/ Art Yard/ Suminoe Kagaya Local Community
Katherine Liberovskaya wishes to thank the Canada Council for the Arts for
their support.
____
06/06/09 remoscope workshop in Togoshi Ginza [remo*TOKYO]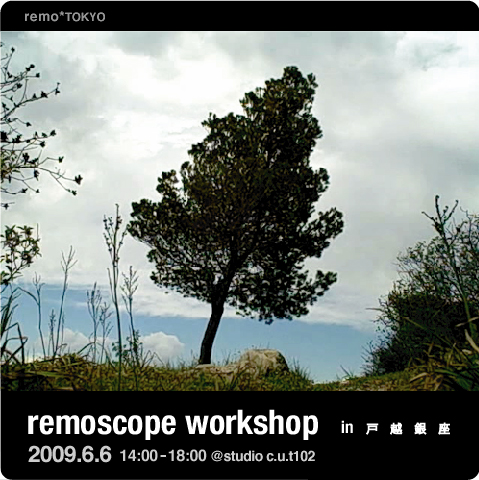 remo*TOKYO has open in June! For the opening project, remo*TOKYO will have the remoscope workshop.
date: Saturday, 6th June, 14.00- 18.00
location: studio c.u.t 102
2-7-4 Hiratsuka Shinagawa-ku Tokyo
access: Tokyu Ikegami Line [Togoshi Ginza]
Fee: 1000yen (incl. video equipments)
10 people
E-mail to tokyo@remo.or.jp (name/ e-mail/ tel)
Organization: remo*TOKYO [NPO remo/ record, expression and medium- ]
*[remoscope workshop]
remoscope is a coinage of video works based on the "Lumiere Rule" remo created. No technique is required. Anybody from beginners to professionals can create video works. In this workshop, participants watch their works together and enjoy calm surprise at dissimilating familiar landscape, which is clipped out by various viewpoints.
*Lumiere Rules
[Fixed camera/ No sound/ No effect/ No edit/ No zoom/ Max. 1 min]
*remoscope (also known as Lumiere video)
http://www.remoscope.net
http://videoblogging.info/lumiere/